GYMNASIUM
To impart healthy learning system a setup of mutigym facilities with latest equipment's for the benefit of the students and staffs is done. These gymnasium centre would help in providing an additional dose of relaxation and enthusiasm among the stakeholders mainly students to keep them healthy and fit so as to grow a healthy mind with a healthy body.
The procurement of equipments for setting up of gymnasium were done from RUSA fund. The total cost of purchase of gymnasium equipments was Rs. 10,00,879/-
Some of the equipments for gymanisum are listed below
Sl. No.

Items Details

1.

10 Stations Multi Gym Commercial

(6 weight station and 4 free weight station)

Make/Model:

Unique UP 525

Consists of Following

Vertical chest press-100 kg, High Lat Pulley-70kg,

Rowing Pulley-60kg,

Leg extension/curl-60kg,

shoulder press-80kg,

Leg press-100kg,

Abdominal board, Chinning Bar, Dipping, and Arm curl.

2.

45 Degree Hack cum Leg Press

Make/Model:

Unique US_19

Heavy duty, high tensile strength steel

Pulley: Maintenance free

3.

Bicep Middlehand

Make/Model:

Aerofit AF 584

Standard , high tensile strength steel oval tube

Rust proof painting

4.

Cable Cross

Make/Model:

Aerofit CT 2015

Two weight stack on either side

Weight stack: ~120Kg

Grips : high density foam rubber hand grips

Cable: steel wire high tensile strength, self-lubricating , Rust proof

5

Roller Jogger

Make/Model:

Aerofit AF 902

Manual, Good quality, ~6ft length/Extra Long handle bar/ easy grip

Wheels for easy transport

6

Dumbles

1kg x 4, 2kg x 4, 4 kg x4

7

Barbles/Plates

1kg x2, 2kg x4, 5kg x6, 10kg x6, 20kg x2, 25kg x2

8

Olympic Rod original

(Make: Aerofit)

As per weight lifting - 7 ft. with collar lock

9

Olympic Rod (general)

Make: Aerofit

3 ft., 4 ft., 6ft, with collar lock. – Total 13ft

10

Motorized Tread Mill

Make/Model:

Aerofit AF 753

• Motor : AC Motor,

3 HP Continuous Duty

Water Bottle. Inbuilt speaker for audio with input. Frame: Heavy-gauge welded steel & coated finish To Ensure Minimum Corrosion.

Foldable : Smart folding system

11

Spin Bike

Make/Model:

Aerofit AF 531

Spin Wheel : 25 Kgs high inertia spin wheel.

Display feedback : Time, Distance, Speed, Pulse, Calories LCD display, Push brake system,

Metal belt driven.

12

Recumbent Bike

Make/Model:

Aerofit AF 690R

Electro-Magnetic resistance, Pedal with adjustable straps

Brake resistance: ~350watts, Self-Power Generator, , Self-generating power supply

13

Rowing machine

Make/Model:

Aerofit AF 7105

Magnetic Rowing

Magnetic resistance. footplates with straps,

5 Kgs Fly wheel. Foldable.

14

Aerobic step board

(large size)

Make: Aerofit

Height adjustable (using 3-4 Risers/Blocks to Adjust The Height upto 25cm) non-slip/anti-skid, shock absorbing platform

15

Digital weighing machine

Make/Model:

CAMRY EB 9323

Large Display,

Auto On/Off,

battery operated

16

AB Exerciser with meter

Make/Model:

Aerofit AB Exerciser

Fully adjustable sturdy frame, thick padding for superior support.

Display: Metre with counting number of motions done.

Rolling wheel action for a smooth motion.
Some of the images of the existing setup are hiighlighted below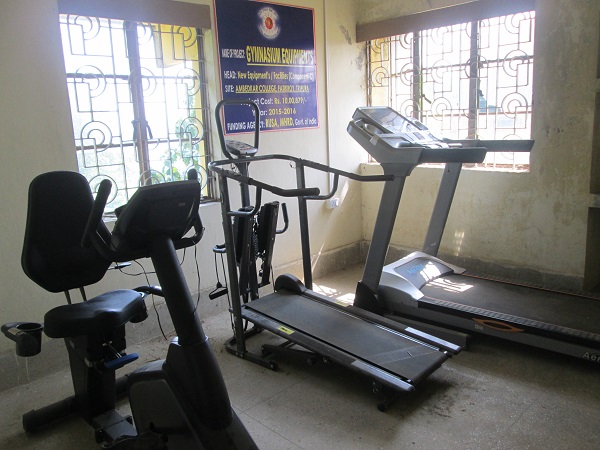 1. Digital & Manual Treadmill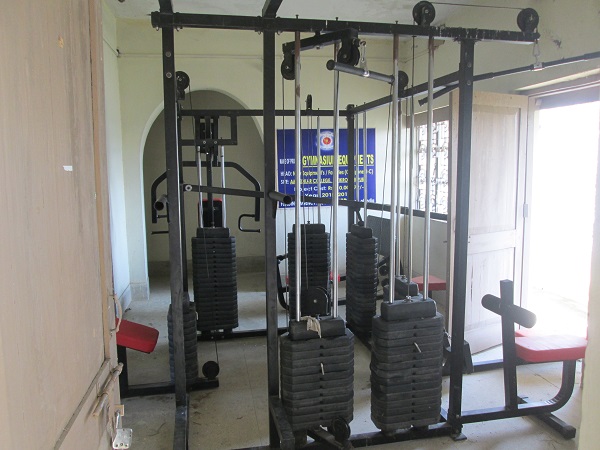 2. Multi Station Gym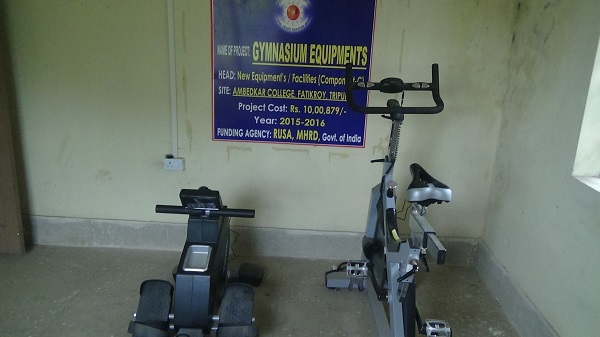 3. Bike & Rowing Machine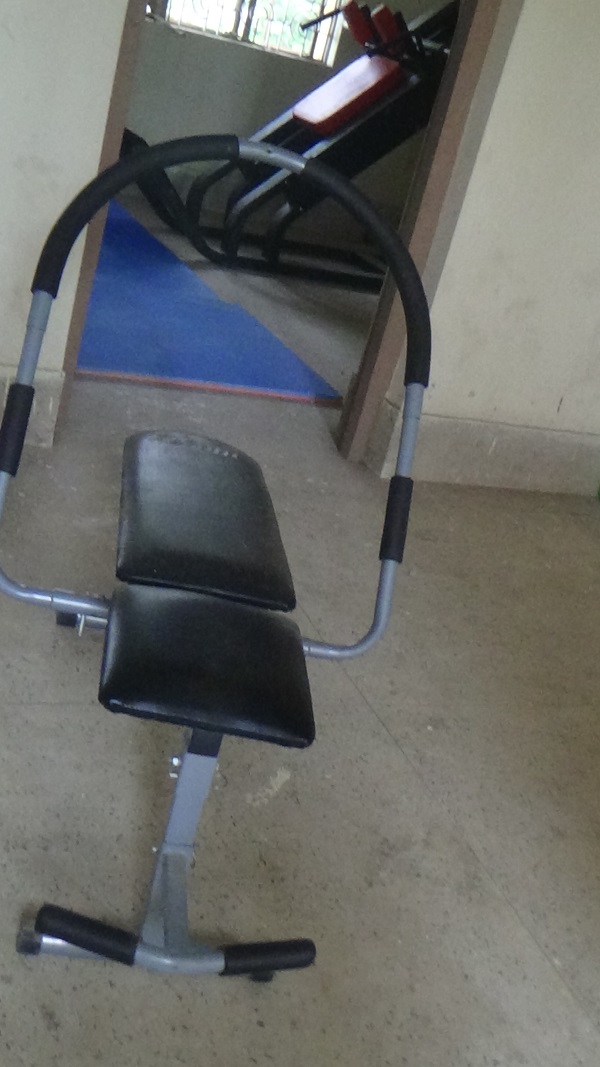 4. Ab Exerciser