Profile
Overview
Rashtriya Uchchatar Shiksha Abhiyan (RUSA) is a Centrally Sponsored Scheme (CSS), launched in 2013 aims at providing strategic funding to eligible state higher educational institutions. The central funding (in the ratio of 60:40 for general category States, 90:10 for special category states and 100% for union territories) would be norm based and outcome dependent. The funding would flow from the central ministry through the state governments/union territories to the State Higher Education Councils before reaching the identified institutions. The funding to states would be made on the basis of critical appraisal of State Higher Education Plans, which would describe each state's strategy to address issues of equity, access and excellence in higher education.
Objectives
The key objectives of RUSA are to improve access, equity and quality in higher education through planned development of higher education at the state level. Objectives include creating new academic institutions, expanding and upgrading the existing ones, developing institutions that are self-reliant in terms of quality education, professionally managed, and characterized by greater inclination towards research and provide students with education that is relevant to them as well the nation as a whole.
The salient objectives of RUSA are:
Improve the overall quality of state institutions by ensuring conformity to prescribed norms and standards and adopt accreditation as a mandatory quality assurance framework

Usher transformative reforms in the state higher education system by creating a facilitative institutional structure for planning and monitoring at the state level, promoting autonomy in State Universities and improving governance in institutions

Ensure reforms in the affiliation, academic and examination systems

Ensure adequate availability of quality faculty in all higher educational institutions and promote capacity building at all levels of employment

Create an enabling atmosphere in the higher educational institutions to promote research and innovation

Expand institutional base by creating additional capacity in existing institutions and establish new institutions, to achieve higher enrollment

Correct the regional imbalances in terms of access to higher education by setting up institutions in un-served and underserved areas of the country

Improve equity in higher education by providing adequate opportunities of higher education to SC/STs and socially and educationally backward classes; promote inclusion of women, minorities, and differently abled persons

With universities, to prepare universe-ready scholars.
RUSA committee of Ambedkar College
The present composition of RUSA committee is as follows
1. Dr. Subrata Sharma, Principal In-charge - Head of the Institution
2. Sri Biplab Majumder, Asst. Prof. - Institution Coordinator
3. Sri L.T. Muana Darlong, D.D.O. - Nodal officer, Procurement
4. Sri Shyamal Biswas, PGT -Nodal officer, Civil Works
5. Ms. Lalthanguri Sailo, Asst. Prof. -Nodal officer, Academic Activities
6. Sri Lalit Mohan Debbarma - Administrative Staff
Funding
RUSA grant for Ambedkar College, Fatikory
Ambedkar College, Fatikroy has been one of the State Govt. College of Tripura which was selected by State Higher Education Council, Govt. of Tripura for receiving funding under RUSA scheme under the primary components of
FUND RECEIVED UNDER RUSA
Financial Year

Sanctioned Amount

Sanctioning Memo No

Amount Utilized

Unutilized balance

Remarks

2014-15

Rs.20,22,728.00

Rs 2,24,728.00

F1(11)-SCHE/RUSA/2015

Dated: 24/4/2015

F.1(11)SCHE/RUSA/2015

dated:10/12/2015

Rs 20,22,728.00

Rs.2,24,728.00

Nil

Nil

UC submitted to SHEC, RUSA on26/09/2015

& 26/02/2016 respectively

2015-16

Rs.88,76,262.00

F1(57)-SPD/RUSA/2016 Dated:6/10/2016

Rs. 88,76,262.00

Nil

UC submitted to SHEC, RUSA on 13/09/2018

2019-20

Rs. 88,76,263

F1(90)-SPD /RUSA/2019/997(02)

dated 19/07/2019

Rs. 80,28,518 as on 01/09/2020

Rs. 8,47,745/-

2019-20

Rs. 19/-

F1(39)-SPD /RUSA/2016 dated 04/06/2020

NIL

Rs.19/-
Activities
RUSA ACTIVITIES
We have successfully accomplished the following quality and infrastructure up scaling work under RUSA project
Rain Water Harvesting: We have constructed two new rain water harvesting underground reservoir tank to collect the rain water and make it usable for re-use for cleaning and other uses. Also one of the rain water storage is allocated exclusively for science laboratory which can serve the purpose of clean water for lab use and also for cleaning and washing purposes. These would help us in kerbing the water shortage to some extent in the college campus
Smart class room setup: To provide students with innovative and upgraded learning facilities we have setup two smartclass room to make the teaching-learning process more upgraded and interesting. This facilities also encourage the students to take deep interest in learning and acquaint them with best of the learning capabilities.
College Gymnasium : To impart healthy learning system a setup of mutigym facilities with latest equipment's for the benefit of the students and staffs is done. These gymnasium centre would help in providing an additional dose of relaxation and enthusiasm among the stakeholders mainly students to keep them healthy and fit so as to grow a healthy mind with a healthy body.
Some of the activities/work completed under RUSA scheme are being highlighted as follows
1. SmartClass & Seminar Hall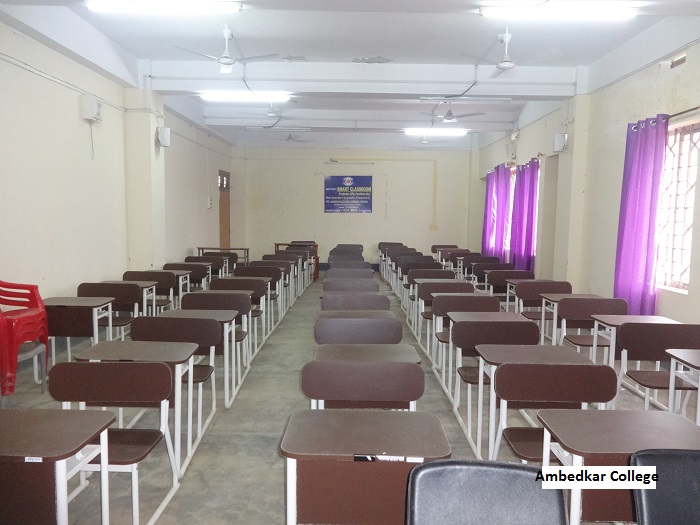 2. Science Lab Upgradation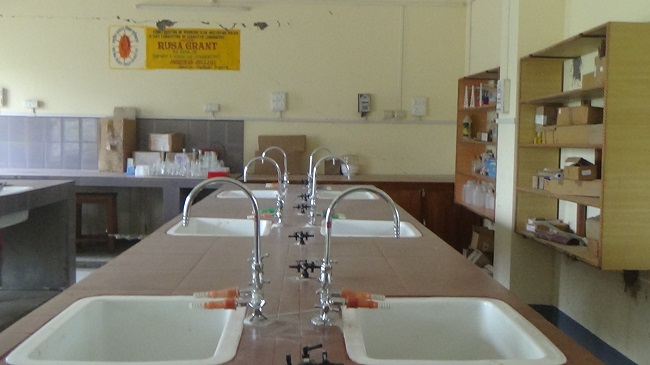 3. Rain Water Harvesting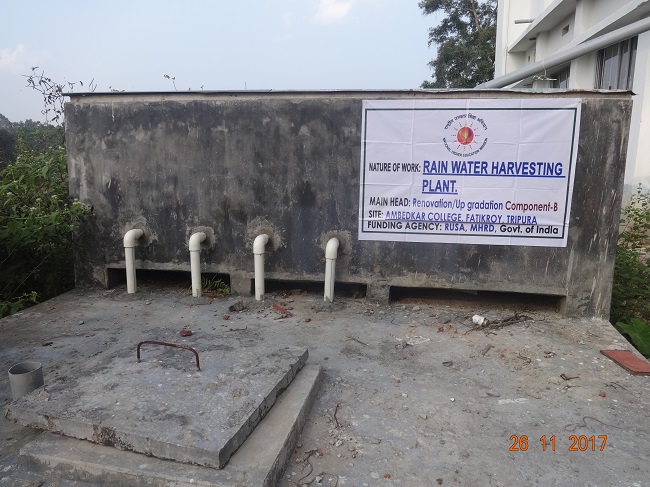 4. Badminton Court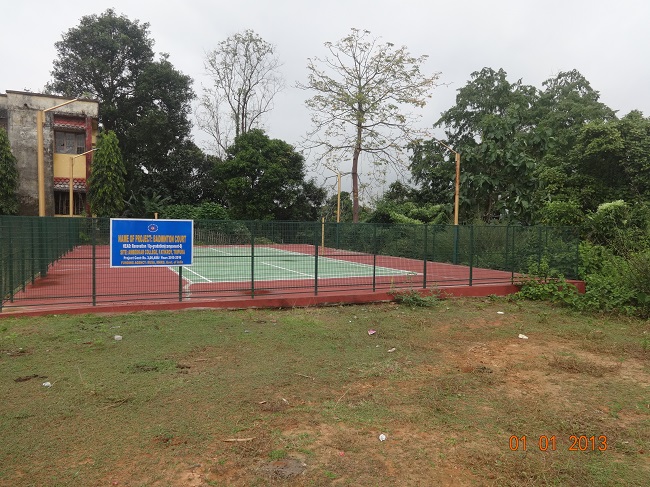 5. Office partition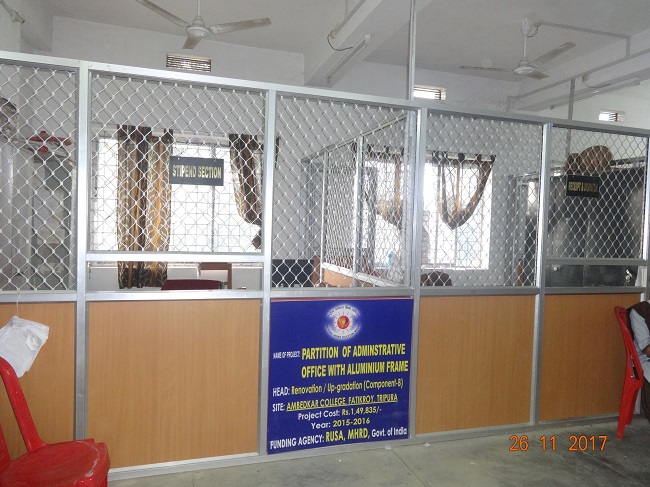 6. Multistation gym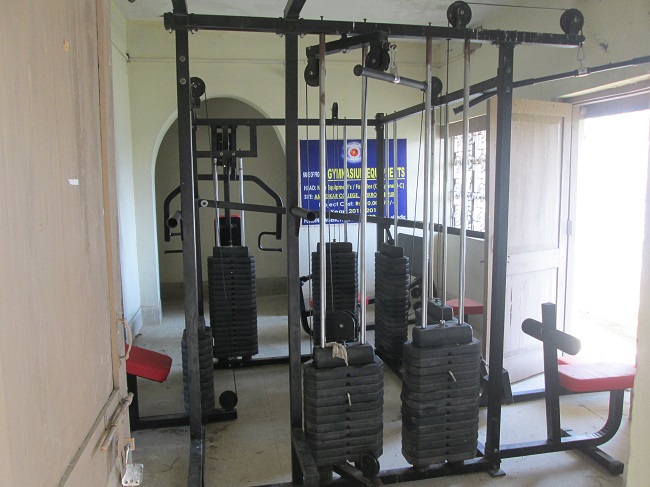 7. LANING under RUSA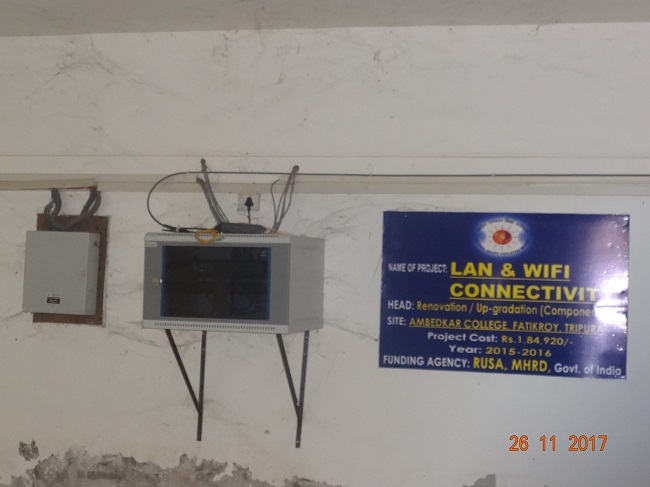 8. Computer lab smartclass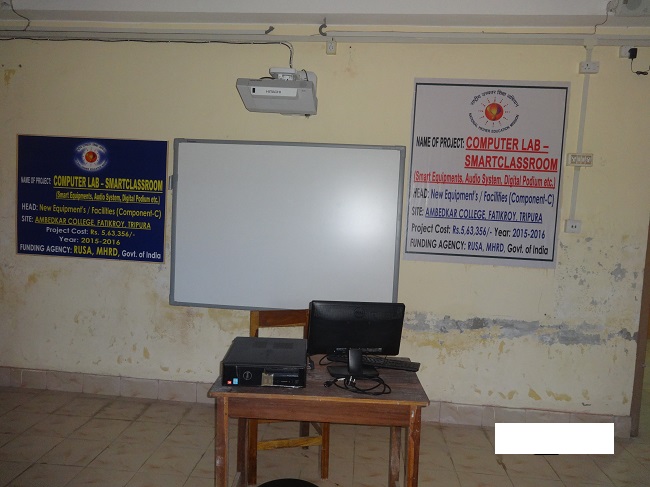 9. CCTV upgradation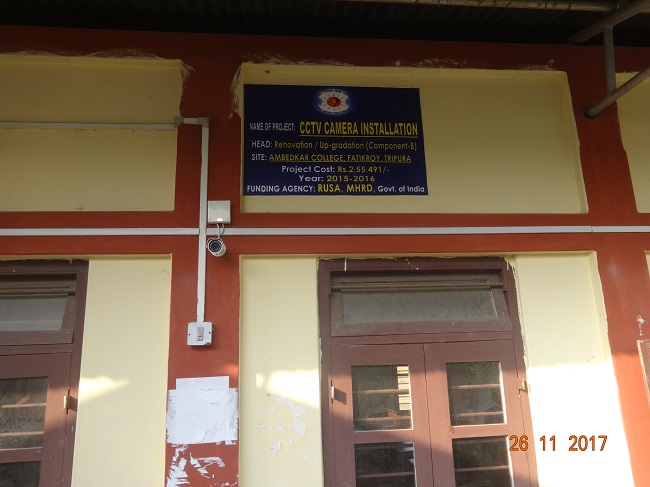 Assets